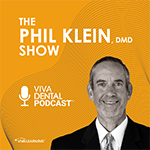 Series: DMG America
Guest: Dr. Todd Snyder
CE Credits: 0.25 CEU
Release Date: 10/10/2022
Dental podcast: Welcome to DentalTalk. I'm Dr. Phil Klein. Today we'll be discussing provisionalization in creating a new smile design. Our guest is Dr. Todd Snyder, a popular speaker on Viva Learning.com, a cosmetic dentist, international author, lecturer and consultant to dental companies. Dr Snyder owns a software company, a marketing company and an online dental training program,
Legion.Dentist
. He practices Cosmetic and Restorative dentistry in both Laguna Niguel, CA and Las Vegas, NV.
Please
Log in
to take exam and earn CE credit.